Les Kouba Biography
Born: February 3, 1917, Hutchinson, Minnesota
Died: September 13, 1998, Minneapolis, Minnesota
Internationally known as one of the world's foremost master painters of wildlife, Leslie 'Les' C. Kouba is recognized as the founder of the wildlife art revival in the 1970s, and as such, inspired many other wildlife artists. His deep understanding of wildlife stems from growing up on a Minnesota farm which afforded him ample opportunity to observe and study wildlife in their natural habitat. Kouba said, "Because I actually hunted and fished, I developed an early understanding of all of the background skills necessary for my future career as a wildlife artist."
Early Years:
The middle child of 3 brothers, Les was born on February 3, 1917, during a blizzard on his parents farm about 2 miles east of Hutchinson, a small picturesque town in west central Minnesota. His parents, Anthony and Sophia Kouba, were first generation Americans. Their parents had immigrated to America from Prague, Czechoslovakia. Les's father contributed to his early appreciation of nature by teaching him a lot of tricks in hunting, trapping and fishing. He instilled in Les at an early age, the sheer enjoyment of being outdoors. Kouba decided early in life that farming wasn't for him. "I knew I could draw when I was about 8 years old. I think I made up my mind about then that I wanted to be an artist when I grew up. In fact, many of the buildings on the farm still who traces of my early enthusiastic attempts at painting." At 11, Les sold his first painting to a German farmer for $8. That doesn't seem much by today's standards but in 1928, the monthly income from the family dairy business was $22.
That early sale went a long way in convincing Kouba's parents that his artistic skills were worth developing. They supported Les's interest in art by enrolling him at age 14 in a correspondence school art course. The guidance of professional art instruction was invaluable in helping develop his own unusual technique which immediately identifies his work. When Kouba turned 15, he left home to start his painting career. In order to support himself, he started doing commercial painting. "I painted trucks, lettered signs, designed wall murals – just about anything that needed to be done, I was willing to try." One of Les's biggest sources of income was painting for individual Coca-Cola bottlers throughout the country. While painting Coca-Cola signs, Les made modifications to its design, adding more slant to the letters. Coca-Cola headquarters heard about his improvements and wanted to incorporate them into the official Coca-Cola logo. They gave Les a sizable check for his efforts.
Return to Hutchinson:
"I enjoyed moving around – seeing the country – but one day while sleeping in a boxcar in the southwest, a man was stabbed to death near me. I figured that was close enough. I packed up the little bit of stuff that I had and headed home."
From 1936 – 1942, Kouba took almost every job that came his way. The July 17, 1936, edition of the Hutchinson Leader said of the young Kouba: "He has the natural ability and his finished works show fine technique, finesse and foretell a splendid future." In 1937, Kouba created a statue commemorating the great Sioux Indian chief, Little Crow, one of his most lasting lifetime achievements.
It wasn't long after Kouba completed the Little Crow statue that he attended a Thanksgiving Day dance at the Plato Ballroom in Plato, Minnesota. It was here that Kouba met Orial Thiem of Gibbon, Minnesota. Something clicked on the dance floor and they were married two years later on September 9, 1939.
Move to Minneapolis:
In 1944, Les and Orial, along with daughters Bonnie and Pamela, purchased their first and only home, a small comfortable house in South Minneapolis. In 1946, Kouba moved into his first small office in the Syndicate Building in downtown Minneapolis, calling his business Kouba Advertising Art. It was here that Kouba invented the Art-O-Graph, a time saving machine that was able to cut 7-10 hours each week out of his work schedule. It wasn't long before fellow commercial artists also wanted an Art-O-Graph. A modified version of the Art-O-Graph was designed for map work called the Map-O-Graph. In 1966, the National Aeronautics and Space Administration (NASA) ordered a Map-O-Graph and an Art-O-Graph.
Wildlife Artist – The Beginning:

Although Kouba had his hands full with his new advertising business, successful inventions and a growing family, he still found time to pursue his lifelong goal of becoming a wildlife artist. He worked commercial jobs by day, and at night, he would stay up late painting his favorite childhood memories – great flocks of canvasbacks lifting off from a mist-shrouded marsh; diving bluebills in an early winter snowstorm or a white tail deer feeding in a farmer's cornfield. Kouba painted what he knew best – the day-to-day rural scenes he grew up with.
Kouba exhibited some of his early works at Zesbaugh's Picture Store in downtown Minneapolis. One day, Clare Fry, art director at Brown and Bigelow, a major calendar firm, noticed a couple of his paintings at Zesbaugh's. Fry called Les for an appointment, and the budding wildlife artist had launched his career.
It wasn't long after the meeting with Clare Fry that Ted Kesting, editor of Sports Afield Magazine, stopped to visit Clare Fry. Fry told Kesting about Kouba, and Kouba was commissioned to do the cover art for the October 1950 issue of Sports Afield as well as the art to accompany outdoor writer Jimmy Robinson's article. Les and Jimmy went on to be friends and hunting partners for decades. Kouba went on to do 6 Sports Afield covers in addition to wildlife scenes for many other national magazines, among them; The Saturday Evening Post, Argosy, Naturalist, Eddie Bauer and Ducks Unlimited.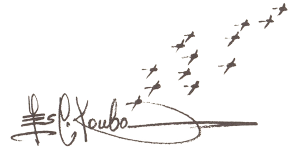 Kouba "13" and Signature:
Shortly after Kouba did his first Sports Afield cover, he developed two unique trademarks that would distinguish his work from all other artists. "The idea of putting 13 of something in my paintings originated from a conversation I had with a friend of mine, Paul King. He stopped by my art studio in the Syndicate Building and noticed four paintings I had hanging on the wall. King was a guy that counted everything, 'a counter.' He said to me; 'Kouba why do you paint 13 subjects in every painting?' You know, I didn't even know that I did that – what a shock! From then on, I made a point to always put 13 in some way or another."
Kouba's other unique trademark is his signature. The almost Oriental looking treatment of his name with the addition of the 'three stroke duck' makes it instantly recognizable. "My signature really evolved over the years. I just kept refining it until I reached the point where I really liked it and my customers liked it as well."
The Kouba Legacy:

In 1952 Kouba founded and became the Director of The American Wildlife Art Gallery in Minneapolis. The gallery boasted one of the largest collections of original wildlife art,exhibiting paintings by famous American wildlife and western artists. Kouba loved being in public and would often do live painting demonstrations at banquets and other venues. Upon meeting Kouba, everyone became one of his 'Dudes' a moniker he used for everyone he met.
His exciting oils and dynamic watercolors are known worldwide to be some of the most authentic portraits of wildlife in existence. Kouba put true detail and nostalgia into the paintings. "I was the first to put farm buildings in my paintings," said Kouba. That was revolutionary. Artists thought a scene should be completely wild, but right around the corner where an artist paints, there's a farm. "Early in my career, I did a short stint as a taxidermist. I made careful anatomical studies of my mounts so that I would develop a true understanding of how everything fit together and worked. I not only studied the birds, animals, and fish that went into my paintings, but the actual settings that make my work authentic as well."
"I also believe," said Kouba, "that an artist has to experiment in order to learn. I can paint in any medium. I've mastered both watercolors and oils. I've learned stone lithography, dry point etching and aquatint. Kouba also worked in precious metals. His 'Cans-Decoying' Commemorative Medallion, produced by England's world famous Pobjoy Mint, is the largest hallmarked silver bullion piece ever to be minted. Kouba was one of the first artists to create wildlife paintings in a series. His "Shelter" series, three works depicting 13 pheasants searching for, finding, and leaving a farmer's shelterbelt during  a storm, set the standard for the genre.
His wildlife paintings range from dark and brooding storms to brilliant sunsets to a warm moonlit night. "The painting comes from your heart and is fueled by your imagination. It's my tremendous attention to authentic detail that marks the difference between the artist who knows what he is painting and the one who thinks he can dream about something and make it look real on canvas. "Throughout his life, Les Kouba and his artwork contributed to many wildlife and conservation efforts – raising millions of dollars for Ducks Unlimited, Pheasants Forever, Big Game Associations, Freshwater Society, Departments of Natural Resources and others. Kouba gained fame for over 20 Conservation Stamps, including two Federal Duck Stamps (1958 and 1967), 1982 Artist of The Year for Wildlife Heritage Foundation, Ducks Unlimited 50th and "Who's Who in Art," International Directory of Arts. "Ducks Unlimited is the world's largest and most effective private waterfowl and wetlands conservation organization. In no small way, we are able to say that because of Les Kouba and his art. He raised many millions of dollars for DU and played an integral role in our growth. His 1976 DU print, Bluebills in Lifting Fog, established a new record for fundraising. Because his images of waterfowl and habitat are so authentic, they instantly capture the atmosphere of what Ducks Unlimited is all about."
Death of a Legend:
Leslie C. Kouba died on September 13, 1998 at the age of 81. He was living at the Mt. Olivet Nursing Home in Minneapolis at the time of his death. An unfinished painting remained in his room, as he continued to paint until the end. As if predestined, Les passed away on the 13th, as his trademark was the number 13. From his first painting to his very last, each and every one of them reflected a part of his life. Each one tells a story based on his experiences. The art and legacy of this truly unique and original man will live on.
Interview with Bill Kerr
Watch an interview we conducted with Bill Kerr, Founder and Chairman Emeritus, National Museum of Wildlife Art of the United States, about his memories of Les Kouba: